Bar Non Wyoming Dust
Harvey: Just wanted to send you a note and a picture of "Bar Non Wyoming Dust" to brighten your holiday. On a spur of the moment idea of my daughter, Dusty and I entered and won the Tatman Mountain 25 mile endurance race this Fall in Basin WY. It was the first time for both of us so I was pretty excited. I can't say enough about this awesome horse. She is now 12 and a daughter of your" famous" Pierre stud. Without any training or experience we completed the 28+ mile course in 3 hr and 26 min with at least 6 seasoned Arabians in the pack following. We were also awarded the Best Conditioned Horse because she was packing about 50 pounds more than 2nd place . She's got a heart of gold, feet like iron, and seemingly no bottom end. She also watches a cow, herds goats, packs elk, loves the mountains and gets me to church on Sunday! Sometimes it's just hard to be humble when you've been blessed with a horse like this and my wonderful wife that talked me into buying her from you. THANK YOU
Bruce and Teresa Davidson, Sheridan, WY
Merry Christmas 2018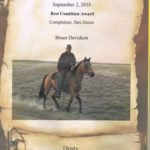 Harvey
Just wanted to send you a note and a picture of "Bar Non Wyoming Dust" to brighten your holiday. On a spur of the moment idea of my daughter, Dusty and I entered and won the Tatman Mountain 25 mile endurance race this Fall in Basin WY. It was the first time for both of us so I was pretty excited. I can't say enough about this awesome horse. She is now 12 and a daughter of your" famous" Pierre stud. Without any training or experience we completed the 28+ mile course in 3 hr and 26 min with at least 6 seasoned Arabians in the pack following. We were also awarded the Best Conditioned Horse because she was packing about 50 pounds more than 2nd place . She's got a heart of gold, feet like iron, and seemingly no bottom end. She also watches a cow, herds goats, packs elk, loves the mountains and gets me to church on Sunday! Sometimes it's just hard to be humble when you've been blessed with a horse like this and my wonderful wife that talked me into buying her from you. THANK YOU
Bruce and Teresa
BRUCE DAVIDSON
Extremely Helpful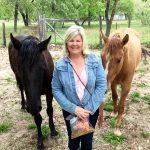 I reached out to Harvey Seidel looking for a Morgan Horse. I had some specifics and was interested in one I saw pictured on his website. He called me and explained to me why the initial horse I was interested in wasn't the perfect one for me. I wanted a horse that would be a confident partner to trail ride alone 10 +/- miles some times. I also ride in groups both small and large, but more often than not I haul out and ride alone. Harvey recommended I look at 3 other horses. I was immediately drawn to Bar Non Red Shadow – a 3 year old Red Dun. I had previously said Never – which has taught me to NEVER SAY NEVER – would I buy a horse I had not touched and checked out in person! Yet, I felt drawn to and prayed about Shadow and knew he was the horse for me. I refer to him as a gift from God. Harvey shared that he was named Shadow because he would follow Harvey all around. Truth be told, I think Harvey favored this guy (probably favors all of his horses) and I hope he sensed I would be a perfect home for Shadow too! The hauler Harvey recommended was outstanding and now I have My Red Shadow! He is everything Harvey shared and more. He greets me with a nicker, is as sweet as can be, he follows me everywhere, he has a ton of heart and enjoys all of the work we have been doing as we get to know each other. I absolutely LOVE this horse! BUT WAIT there is more, you see my reason to look for another Morgan was because I had suddenly lost my Morgan horse to illness. I had envisioned 2015 to be the year I bought a second horse. I mentioned this to Harvey and he said there is another horse I keep thinking about for you. He is going to be big (he didn't know my husband is 6'5″) so I said send me a picture. I now own not one but two beautiful Bar None Morgans! I also purchased a stunning 2 year old named Bar Non Black Diamond. He is so sweet and immediately bonded with my husband. I am training him and next year I look forward to trail riding with my husband around So. Texas. The two boys, as we lovingly call them, have blessed our hearts! Bar None Morgans are beautifully bred horses with wonderful Morgan characteristics and charm. God Bless Harvey & Lois for the integrity they have in there breeding program and the manner in which they do business. Thank YOU Harvey.
Frances Phillips
Bought Bar Non Justin
Wanted to give you an update on Justin. I took him on a demanding mountain ride yesterday in the Indian Creek drainage(mostly in Wyoming). He led a string of gaited horses and we navigated some demanding trails. I have so much confidence in him and despite not being used for two months he always does his job without complaining. Thanks for breeding such a fine animal. He is the best horse I have ever owned. Feel free to use this on your website.
Mike Armstrong
Beautiful Morgans
I am a 50+ year old rider who has owned horses since my teens and ridden since i could walk. Morgans have always been my breed of choice, however in recent years I had difficulty finding my ideal: a Morgan with a manageable and willing disposition, that was versatile, companionable and comfortable. Then I found Bar-None Morgans. I have found Harvey Seidel to be a man of his word. He represents his horses honestly and completely. I purchased a 6 year old gelding (Monte) from Harvey based on a photo, a short video, and Harvey's description of his temperament and suitability to my needs. Harvey advised me about shippers to bring Monte from Wyoming to Indiana. The shipper I selected (with his approval) provided excellent care and delivered right to our door. I have owned Monte for 16 months now and I could not be more pleased. He is everything Harvey said and more. Riding is a joy. I have a partner who wants to be with me, loves attention, strives to do what I request, and has an excellent work ethic. Monte is gorgeous physically, but more importantly, he has a beautiful disposition, responsive and respectful. I will always return to Bar-None Morgans when I am looking to purchase another Morgan. I can never thank you enough, Harvey for your dedication to producing beautiful using Morgans true to their heritage.
Karen Hawkins
Accommodating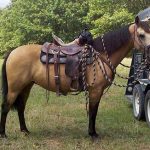 I have owned my Bar Non mare for seven years now and I cannot brag on her enough. It took me a year of searching to decide on an offering Harvey had available of a pretty buckskin filly sired by his late and great stallion S Bar B Pierre Noire and out of they equally historically significant mare, the late Ramul's Barby. Harvey was very accommodating with video and coordinating transportation as well as answering any questions or concerns I had during and after the transaction. Just a pleasure to deal with all the way around. He does not forget you after the sale, you become part of the "Bar Non family".
Bar Non Dream Gold (Harvey let me name her) was my childhood dream and continues to be everything I could ever ask for in a horse. Beautiful, strong, intelligent and feet that have never seen a shoe through thousands of miles of rocky terrain and paved streets. This horse came out of the womb ready for any challenge I wanted to take her through and turns heads where ever she goes. I would encourage anyone shopping for a horse to consider checking out Bar Non Morgans and see what Harvey has to offer!
Jerri L. Krueger
Laid Back Personality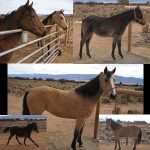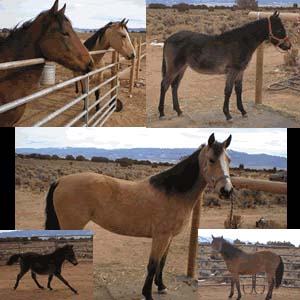 In May of 2001 my husband and I trailered our 2 Morgan horses from Wisconsin to Wyoming to ride in the Big Horn Mountains . As part of this trip we stopped by Bar None Morgans in Thermopolis, Wyoming to see their Western Working stallion S Bar B Pierre Noire. Harvey Seidel led us out to the breeding paddock where he kept Pierre, surrounded by mares. Although it was obviously breeding season for Pierre, Harvey walked right into his pen and invited us inside. Pierre was every inch the gentleman, as he allowed us to pet him all over, and even lead him out of his pen and away from his mares. This was one gorgeous horse: big, solid bone, jet black, gentle, and every inch a Morgan. I was sold on this stallion even before Harvey invited me to saddle Pierre and ride out into the fields.
Although we had not planned on breeding any mares that year, it just so happened that my mare Caroline came into season right that week. We left her there to breed to Pierre. The plan was to leave her at Harvey's over the winter, and then come back the next spring after she foaled. Of course, that meant there was an empty spot in our trailer. Harvey had a herd of yearlings by Pierre out in a field, and the buckskin filly Bar None Spring Brooke just followed me home!!
That started a wonderful relationship with Harvey and his beautiful black stallion. We now have 3 of Pierre's daughters, all out of different mares, and all different colors. My ½ Lippitt mare Caroline foaled a lovely bay filly that we named Crosscut Lady Jane. The following year we bred our Government mare Glory to Pierre , and this spring we got another filly we named Crosscut Kachina Doll. Doll is black all over, except for some mealy brown around her eyes and muzzle. I believe the AMHA calls that color "brown". So now we have a buckskin, a bay, and a brown filly, all out of Pierre . Although the colors are different, all 3 girls have the same excellent confirmation, solid bone, and size.
But what we found really impressive is that Pierre's foals all have his wonderfully laid back personality. They are easy to train— a trait that is very important for us amateurs— and eager to please. The buckskin filly Brooke was trained to drive as a 2 year old, and this past summer I just saddled her up and took her out onto the trails. Even though she is really only a green broke saddle horse, she behaves so well that all my Quarter Horse friends are envious!
I look forward to training my yearling and weanling fillies, as I know they will be just as easy to work with. Harvey and Lois Seidel are wonderful folks, who have a genuine (black) goldmine in their Morgan stallion Pierre.
Dee & Keith Norlin
New owner of Bar Non Justin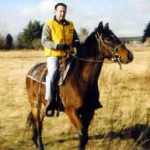 I spoke to Harvey Seidel several times during the Spring of 2003 telling him the kind of horse I was looking for. He told me about a two year old gelding he had and Memorial Day weekend, on the way to a soccer tournament with my daughter, we stopped in Thermopolis, Wyoming to see Harvey and his Morgans. He showed me the gelding he had described on the phone and then introduced me to the rest of his horses including his outstanding stallion. We spent about an hour and forty five minutes together and we established a price for the horse I was considering and I asked that he give me a couple of days to mull over my decision. He said that would be fine and I was on my way. I gave considerable thought to my decision and concluded the gelding had the disposition I wanted plus other traits that I liked. I phoned Harvey to confirm my decision to purchase and sent a down payment. We agreed that I would pick the horse up several weeks later and settle up financially. Everything went as agreed and I happily drove the horse back to my home in Southeastern Idaho and let him become acquainted with my other Morgans.
I did very little with the horse until September 2003. After work one evening I went to the pasture, put a halter on the gelding and led him out of the pasture and away from the others. I put the snaffle in his mouth with head stall on, put the blanket on his back and saddled him in about seven to eight minutes. That was his very first experience with any of those activities and he obviously did very well. I rode him several times in a round pen and then graduated to a larger (4-5 acres) pasture. A pertinent piece of information is that I am a neophyte in the horse world and do not possess great equine skills. I have only trained two other colts in the past. This colt is doing very well and I am anxious to ride him much more in the Spring and see what he will become.
Thanks so much.
Michael Armstrong
Bar Non Silver Dollar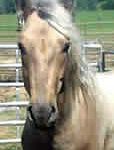 Hi Harvey,
Just wanted to send you a quick email to let you know how well Silver is doing. We plan on starting him under saddle this fall (in the next few weeks). His disposition is extraordinary and his conformation is flawless. We couldn't be happier with him! His first foals hit the ground in February and we can't wait to see what he will produce! Our vet is expecting him to mature at 16 hands, he is a very big boy standing close to 15 hands at just over 2 years of age. Anyway, I am attaching a photo and a link to his site. Hope all is well in Wyoming!! Take care.
Jennifer MacKenzie
Pierre Horses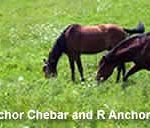 Harvey,
I wanted to send you an updated photo of my Pierre horses. I have nothing but, good to say about them. They never fail to come running in to be around me and anyone who is with me. Every one that sees my herd can't get over what good looking horses they are and how friendly these guys are. Princess is especially a hit since she is a Palomino. She is bred for a 2004 foal to Robbie Sue's Mr. Alert. I am in hopes that it will be a cream foal. They are quick to learn ( the trainer loved my gelding ) and they are pleasant to the eye. 100% Morgan. Thanks,
Larry Ash