We seek to raise good quality colts and fillies each year.  Our bloodlines are suburb.  We have worked hard to get the very best of the old Morgan lines to make the foals have quiet dispositions and great conformation.  The foals go to the mountain every summer and stay till fall where they learn to move around in the hills and trails and build lungs and Legs.  Part of our program is to raise good breeding stock.  It takes a special colt to make a good stallion.  Only a few each year meet that requirement.  If we say this is "stallion quality" that foal as met the criteria.
We had 17 foals in the season of 2019.  We still have 4 left to sell.  Here is a report on them.  Mare is listed, sex of foal, color, and location of new owner:
Mary Mels Peaches; filly; Palomino; Utah
Fletcher Betty J; colt; Grulla; Utah
JoJo Smokin; colt; Palomino; British Columbia
Windy Spring; filly; Smoky Black; Alberta
Mary Mels Sunbeam; colt; Chestnut: Wyoming
Wind Storm; filly; Smoky Black; Wyoming
Mozette; filly, Bay; Washington
Ismarel; Colt; Black; Washington
Adobe Rose; colt; Bay Dun; Wyoming….We are keeping him!
Mother's way Rahab; filly; Buckskin Dun; Texas
Bar Non Princess; colt; Black; Wyoming
Burnished Beauty: filly, Buckskin Dun; Montana
Senate Queen: colt, Bay, Wyoming
Lily Dale: colt, black, Montana
We Still have the following for sale (see details below):
Haley; filly; bay
Mary Mels Calypso; colt; Chestnut
Fletchers Betty Grey; colt; Palomino
Mares to foal in 2020:
Morgan Horses For Sale
Bar Non Bar Non Mattie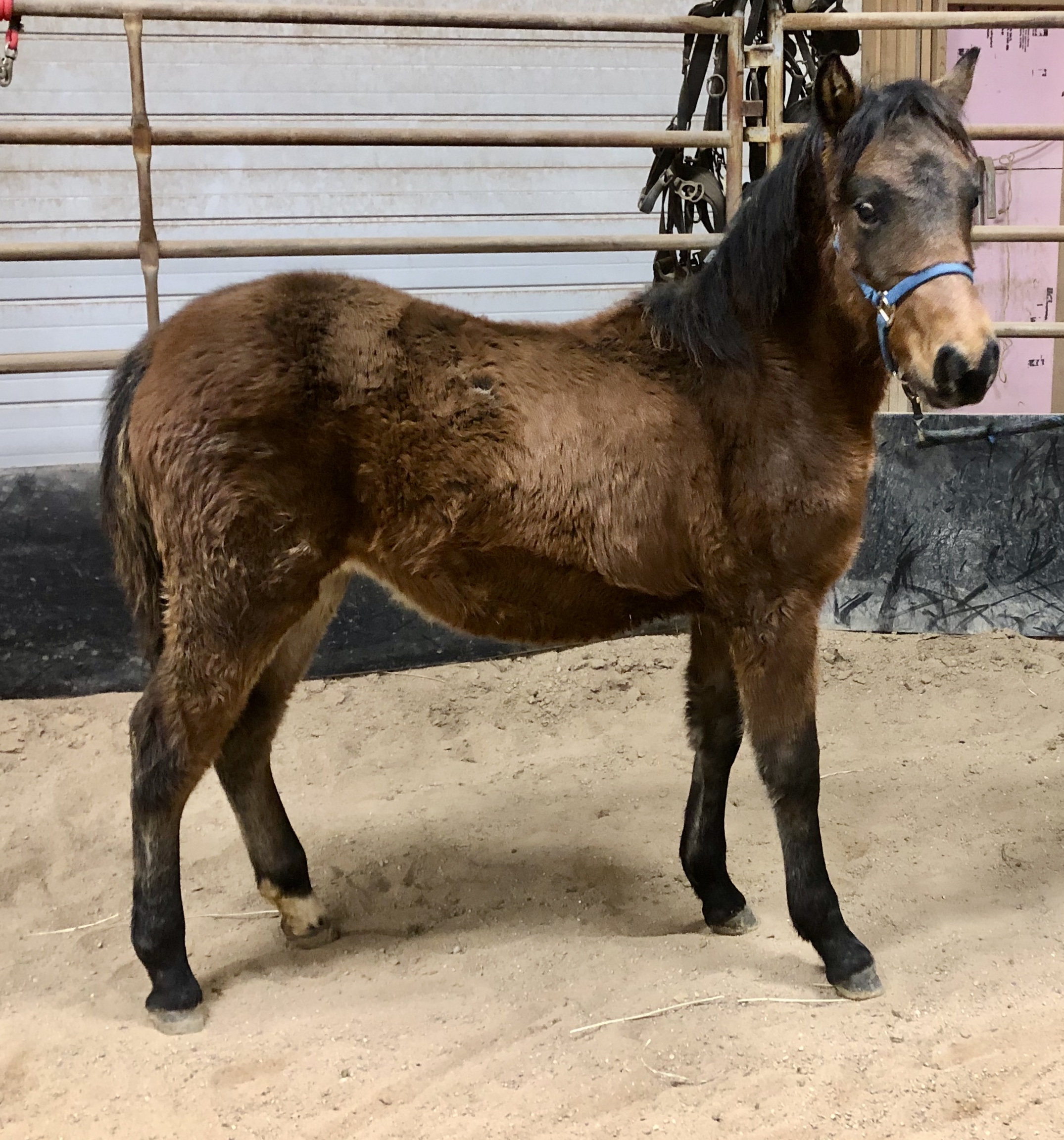 This weanling filly is really put together nice. She has a sweet spirit, not too big, will mature at 14.3 or more. Her mother is a gentle lady. Mattie has a kind eye and has round-pen work and desentization.
Bar Non Bar Non Stardust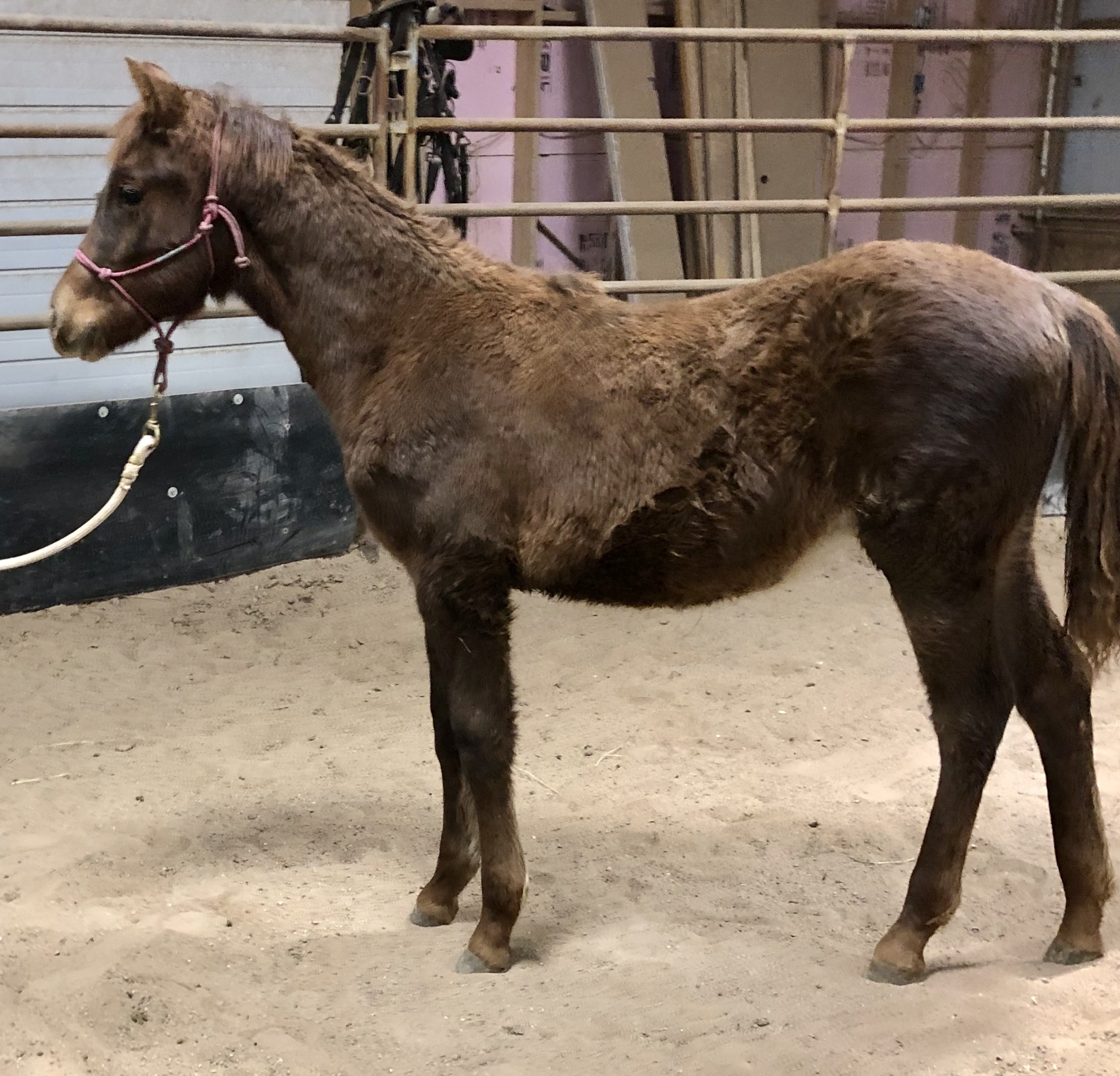 Blue Calypso is the most true gaited mare we have. She is a dream to ride and this colt is out of our grulla stud, Silver Suede. A wonderful combination for a trail horse or working cow horse. He qualifies for any discipline you would like from trial to ranch work.
Bar Non Bar Non Oscar
This is the very first colored foal out of Betty Gray. Blacks has been her choice and a chestnut too. This Guy is chunky and very Morgan typy. For a Morgan he has a big butt! With the Blaze face, it makes him a special foal for any discipline. He is a son of Silver Suede. We call him Awesome Oscar. He is definitely stallion material and is still a stud colt.
---
Other Morgans for Sale
Name: Walker Mare
Price: $2500
Walker Mare is a 3/4 Morgan (Triples S Buckskin) and 1/4 Walker mare. She is a solid built two year old and has been started with round-pen work and saddled some. Easy to trim and handle feet. Good disposition and has that quiet spirit that makes for a good companion. She is a smoky black.
Name: Bar None Friday
Price:
This Bay 2018 colt has wonderful bloodlines and has great gelding potential. Friendly and very well put together for a youngster. More pictures available as he gets older.  His siblings of the past have developed into great riding horses.
Name: Dearborn Spitfire Rebel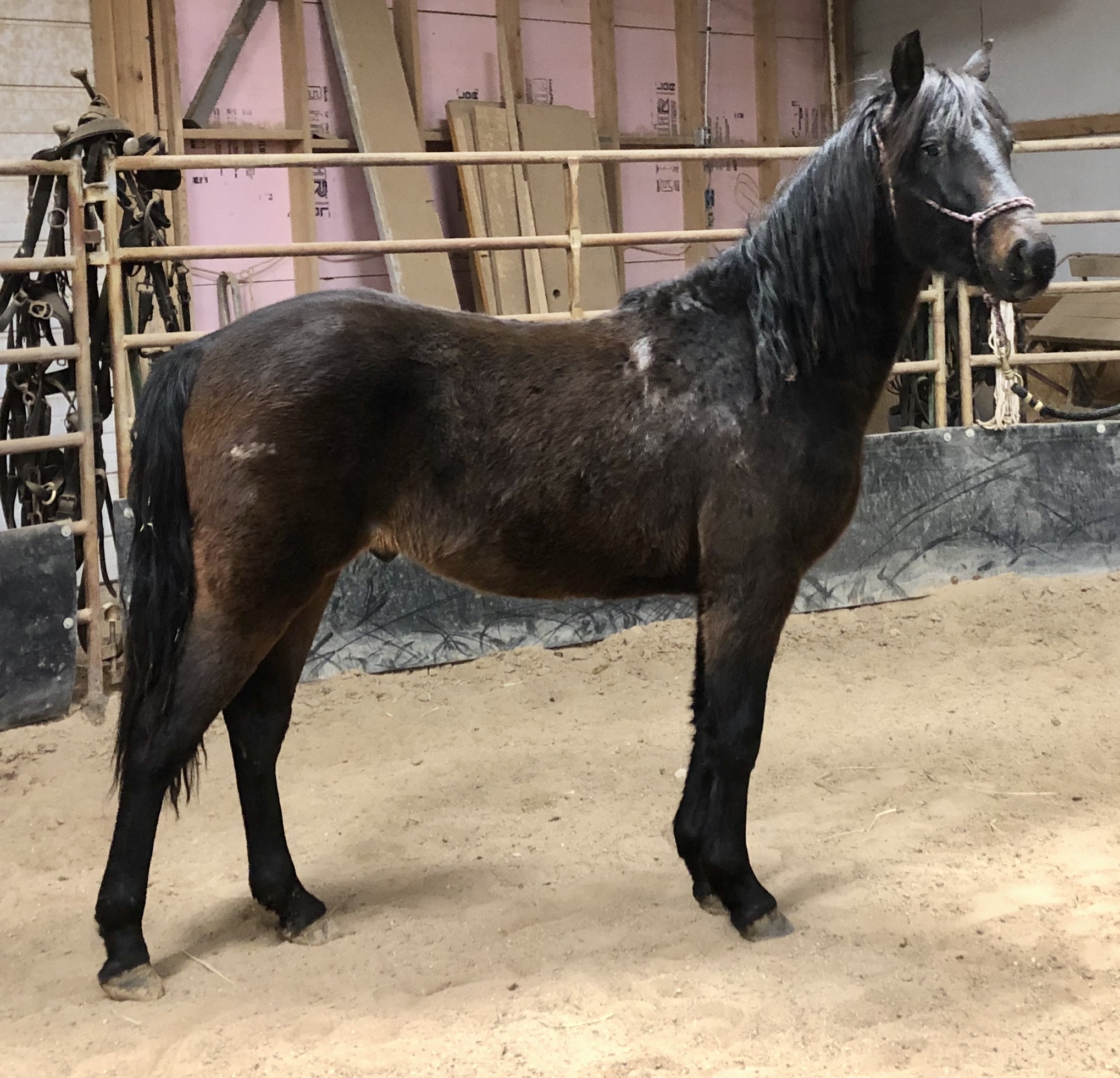 Price: $3000
This Two year old, (2018), bay/brown gelding he is ready for a new home that wants to work on training him.  We have done basic round pen and desentization. He has been saddled and is willing in all we have done. His willingness to learn and be a part of someones life is evident with his curious nature. He has a long stride and will qualify for a great driving gelding.