We seek to raise good quality colts and fillies each year. Our bloodlines are suburb. We have worked hard to get the very best of the old Morgan lines to make the foals have quiet dispositions and great conformation. The foals go to the mountain every summer and stay till fall where they learn to move around in the hills and trails and build lungs and Legs. Part of our program is to raise good breeding stock. It takes a special colt to make a good stallion. Only a few each year meet that requirement. If we say this is "stallion quality" that foal as met the criteria.
We had 17 foals in the season of 2019. We still have 4 left to sell. Here is a report on them. Mare is listed, sex of foal, color, and location of new owner:
Mary Mels Peaches; filly; Palomino; Utah
Fletcher Betty J; colt; Grulla; Utah
JoJo Smokin; colt; Palomino; British Columbia
Windy Spring; filly; Smoky Black; Alberta
Mary Mels Sunbeam; colt; Chestnut: Wyoming
Wind Storm; filly; Smoky Black; Wyoming
Mozette; filly, Bay; Washington
Ismarel; Colt; Black; Washington
Adobe Rose; colt; Bay Dun; Wyoming….We are keeping him!
Mother's way Rahab; filly; Buckskin Dun; Texas
Bar Non Princess; colt; Black; Wyoming
Burnished Beauty: filly, Buckskin Dun; Montana
Senate Queen: colt, Bay, Wyoming
We Still have the following for sale (see details below):
Lily Dale; colt; Black
Haley; filly; bay
Mary Mels Calypso; colt; Chestnut
Fletchers Betty Grey; colt; Palomino
Morgan Horses For Sale
---
Other Morgans for Sale
Name: Mtn Edge Turbo
Price: $4000
This 2 year old gaited bay/black gelding has some of the best bloodlines in the gaited Morgan breed.  He belongs to Jared Young but we have him here for sale.  He is 14.2 and a really well put together gelding.  Wonderful gait.  Not started but ready to begin.  Will make a great companion for you if you want a nice gaited horse.
Name: Bar Non Suedes Abner
Price: SOLD
An amazing grulla stud colt.  Born in 2018, he is the combination of two amazing parents.  If you are looking for a great addition to your genetics  in your breeding program he will add what you want.  His full sibling, Bar Non Suedes Banner is 5 years old, 15.3 and one awesome Red Dun. Call for video or additional information.
Name: Bar None Friday
Price:
This Bay 2018 colt has wonderful bloodlines and has great gelding potential. Friendly and very well put together for a youngster. More pictures available as he gets older.  His siblings of the past have developed into great riding horses.
Name: Dearborn Spitfire Rebel
Price:
A yearling, 2017, bay/brown gelding he is ready for a new home that wants to work on training him.  We have done basic round pen and desentization.  His willingness to learn and be a part of someones life is evident with his curious nature.
Name: Dearborn American Rebel
Price: Sold
This chestnut gelding is just getting started in his training.  He was raised by Kristen Hutchison-Cesnik Cesnik Stables in Billings Montana. I bought a couple other of her horses last year and they have turned out excellent.  One is in Kentucky and another on a ranch here in Wyoming.  Butch has the same breeding and will make an excellent trail or ranch horse.  He is a red chestnut and has a quiet spirit.  We have saddled him and worked in the round pen  as well as basic desentization.  He is obedient to the farrier and is willing.
Name: Red Mountain Zinian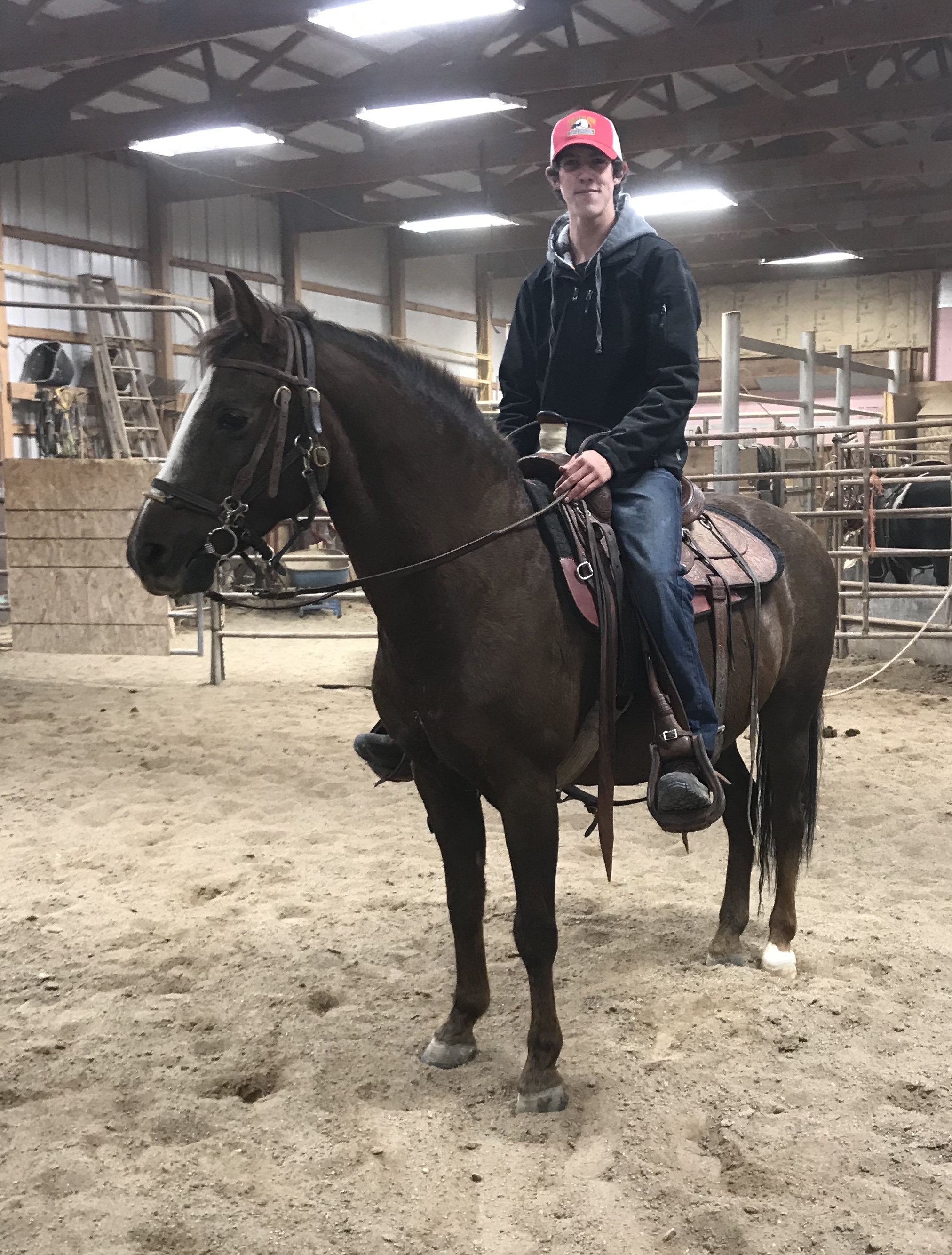 Price:
Zinian is an older broke chestnut Morgan mare (#157320).  Rides beautifully, energetic but easy to handle.  She is 14.2 and a power packed lady.  Beautiful in her own right.  Quiet to handle, easy to mount; stands quietly and mounts from either side.  Trms and shoes and loads easy.  She carries the splash gene and has a white patch right side and behind front leg. If you are looking for a go to horse with lots of power and energy she is available.  Probably not for a novice rider as she has a lot of go!